Profile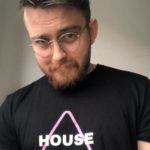 Paul Matusz
Curriculum Vitae
Education

2009-13: PhD Psychological Sciences, Birkbeck College University of London. 2007-08 BA Psychology, Cardiff University. 2004-09 MA Psychology, University of Social Sciences & Huamities, Wroclaw (Poland)

Qualifications

Work History

2018-present: University of Applied Sciences Western Switzerland (HES-SO Valais-Wallis), Sion (Switzerland). 2014-17: Depts. Clinical Neurosciences & Radiology, University of Lausanne (Switzerland). 2012-13: Dept. Experimental Psychology, Oxford University.

Current Job

Junior Group Leader/ Lecturer

Employer

University of Applied Sciences Western Switzerland (HES-SO Valais-Wallis), Sion (Switzerland)
Favourite thing to do in my job:

Writing scientific articles: Once we have results from our study, it's great to try to understand and then describe to other what do we think our results mean and how they help us understand something we didn't know before. It's even nicer when we can write for a wider audience – teachers, parents and others interested in how humans learn

About Me:

I'm a Central-European creative guy who decided to study people's brains so that he can help children and adults better learn and function every day

Read more

I live in Lausanne, a small city in the French part of Switzerland, situated between a large crystal-clear lake (Lake Geneva) and the Alps. But, actually, I don't like the mountains very much; instead I go to the gym and bike up the hilly streets of Lausanne and along the lake itself.

I live in a spacious pre-War flat (5th floor, no lift), surrounded by an ever growing collection of plants and books. If I could, I'd have a dog (but I travel too much). I typically read several books at the same time, and often don't finishing any of them; this way I have at my fingertips access to multiple worlds, without ever having to say goodbye to any of them. But as often you can find me at some café, catching up with friends or trying out a new restaurant. I'm probably too old for this, but I still like to go out, as I like to dance.

I am Polish by birth, but I have German, Ukrainian and Hungarian roots. I've been permanently living abroad since I was 23, and I feel everyone should spend at least one or two years living abroad.

My Work

I study the brains to better understand how people of all ages understand and learn new information, and how those skills can be improved by using technology or by improving people's health

Read more

I lead a small group of researchers interested in the how people learn and behave in the outside world, like the classroom, the high-street or at home. In all those environments, a lot of things are happening at the same time. If a person wants to learn something, they need to focus all their attention on it, so they don't get distracted by other events. We do know that the better people can focus on something – a letter, a word or an equation – the better they will remember it. But in the classroom and other outside situations many of our senses, not just our eyes are stimulated at the same time. So I study if in such "multi-sensory" situations, people need to focus more or less when only their eyes are stimulated. I am especially interested in how this need to focus is different for children and how it changes as they grow older. Understanding these ideas might be important in helping all children learn better every day. But maybe it will help us most to help those children that have problems with reading or counting, or those with problems with their health, for example, not seeing well. As to have a better idea about how people learn, we need every bit of help we can get. So I use electroencephalography (EEG) – a cap put on people's heads where sensors pick up the activity of their brain – and often I use as the first person to test the new experiments on (see picture where I am pretending to be a child with a patch on my eye :). I also study if kids learn better (or worse!) if they learn while playing games, on tablets or even virtual reality (see picture). So, in my work, I use technology and the knowledge about the brain to better understand how we learn. If you want to read a little bit more about my research, my colleagues and I wrote easy to understand article about attention, and a blogpost about learning. Have a look 🙂

My Typical Day:

I answer emails (meh!), train students how to do experments (uff..), and work with doctors, teachers and experts in other fields figuring out how to improve how people learn (yay..!)

Read more

My job involves conducting experiments, and teaching Master's and PhD students how to do run experiments (I don't really give lectures to students). To do so, I spend half my time at the Department of Radiology at University of Lausanne, where we measure the behaviour of children and adults as they do our tasks measuring, for example, how they attend, and how their brains activate while they are doing those tasks. The other half I spend at the University of Applied Sciences in a nearby region of French Switzerland where I work with experts in complex analyses of data collected during medical procedures; these experts help us better analyse our data measuring participants behaviour during our attention or memory tasks, data measuring their brain activity, and other data, like how kids are doing in school (see first picture). This way, my typical day is spent on the train, as the two cities are 1,5h apart (and I get to take pretty picture of the lake and Alps – picture!). I also spend a lot of time meeting with doctors, teachers and other experts, like engineers specialising in securely storing the data that we collect or with the developers of games that we use in our experiments. Here, a big part of my job is explaining the aim of our experiments (and why they are important!) and discussing how we can improve them by working together. This is quite a hard job. In the meantime, I write scientific articles (or speak at conferences – see picture) to explain the results of our studies to other scientists; this is one of my favourite activities. To write in peace I try to escape to some nice café, put nice rhythmic music on and write, for a few days in a row if I am lucky.

What I'd do with the prize money:

I would organize a series of events for teachers and for parents (with whole families!), where where we can discuss with each group our results, what do they mean to them, and how to improve our studies to answer questions that are important to them.

Read more

I think it is very important for researchers trying to understand how people behave in everyday situations to be discussing their findings with those people who have the best knowledge about how young persons pay attention and learn: their parents and their teachers. We also want to show our appreciation of the time that both parents and teachers spend to help us conduct our studies. The best way is to organise events, during a weekend or school holidays, where, in a relaxed atmosphere we can hear their opinion about our findings, and what questions important to them we could study next. For families, there would be fun things to do for the kids with our team, also with games teaching them how the brain works and how they can help themselves stay focused; this way, parents would have time to discuss our studies with us, but also hear from us also about the brain, how it develops and what it means for their children's behaviours and skills (that's what usually parents ask about). During the events with teachers, we would work on experiment ideas from teachers and develop the ideas proposed by parents based on the knowledge of teachers. By putting together the experience of scientists, teachers and parents, I think we can have a complete idea on how we can help all kids concentrate and learn better.
My Interview

How would you describe yourself in 3 words?

Impossible is something-that-hasnt-been-yet-done

What or who inspired you to follow your career?

Internships in marketing companies I did at the end of my studies; After 2 weeks I knew I'd be a very miserable 9-to-5 worker. I started looking for a PhD position the same week I finished my last internship. / The beauty of science and academia is that often you get to meet inspiring people nearly every week or month.

What was your favourite subject at school?

Chemistry ..but also Art and history of art. I know, weird :D

What did you want to be after you left school?

I wanted to go to an arts university, but I've soon realised I can't draw a chair that looks like an actual chair. So I decided to study something equally complex - the human mind. (I still dabble in arts and crafts at home; but I stay away from recreating chairs)

Were you ever in trouble at school?

Yes, a bit (Don't tell my mom I told you).

If you weren't doing this job, what would you choose instead?

I always say that if I ever reach my limits at work, I move to a far away island and weave baskets for sale ..alternatively, I always wanted to become a journalist for the WIRED magazine (technology and science of today and future)

Who is your favourite singer or band?

I listen to a lot of new and/or obscure artists making electronic music, and am an avid fan of techno music (quite rare for a scientist). Check out Forest Swords or Chris Clark :)

What's your favourite food?

Chips and pizza are my kryptonite

What is the most fun thing you've done?

One can never do too much surfing (unless you physically can't swim anymore from being tired). Being able to harness the energy of a wave is probably the coolest thing I can imagine (and that I've done).

If you had 3 wishes for yourself what would they be? - be honest!

1) Teleportation, so I can see my close friends and family spread around the world more often; 2) Patience; 4) Be less distractful

Tell us a joke.

<inserts a meme>
My profile link:
https://ias.im/u.163541
---
---