Profile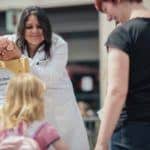 Shanti Shanker
Waiting for Questions!
Curriculum Vitae
Education

Loreto Convent, Mumbai; Ruia Junior College, India; VES Collge of Arts, Science and Commerce, India; and Bangor University, Wales, UK.

Qualifications

Bachelors of Arts (Psychology in India); M.Sc (Psychology, India); M.Sc (Foundations in Clinical Neuropsychology, Bangor University, Wales); PhD (Neuropsychology; Bangor University, Wales)

Work History

In many places (research labs, clinical placements, jobs, teaching etc.) over the last 18 years! Some time in Mumbai; Hyderabad; Perth Australia; Stanford California; Bangor; Cambridge and now in Bournemouth!

Current Job

A Lecturer (Department of Psychology)

Employer

Department of Psychology, Bournemouth University. https://www1.bournemouth.ac.uk/about/our-faculties/faculty-science-technology/our-departments/department-psychology
Favourite thing to do in my job: Understand how the brain functions!

About Me: I love teaching, my reserach, especially understanding the role of brain structures in memory, attention and forgetting!

Read more

Hello! I live in Bournemouth, quite near the sea and love being able to walk by the beach to think.

I spend most of my childhood in Mumbai, India. Being a trained Bharatanatyam dancer (Indian Classical Dance), I like to dance whenever I can.

I love going for long drives on costal roads and am currently learning to ride a motorbike.  Enjoy watching good movies and reading crime thrillers.

Had written a blog few years ago for Soapbox Science, here's the link: http://soapboxscience.org/just-a-kid-from-bombay-meet-shanti-shanker/

My Work: Lecturer (Psychology)

Read more

I am a Lecturer within the Department of Psychology at Bournemouth University.  The best part of my work is that I get to talk about the most interesting findings to students and share the passion and curiosity for learning.

Read more

On days I teach, I either have a lecture in Psychology. This lecture is in quite large classrooms. Lecture topics include memory, stroke, dementia and more…

On some days I lead on smaller seminars where students (20 or 30) have a more interactive learning experience. The topic for these seminars include some topics in statistics, some introduction to neuroscience and many more. These are  interesting and designed to be engaging for the students. I do really enjoy teaching my students.

On other days, where I do reserach I work on writing papers, get participants to complete some of my experiements. I also have meetings with my undergraduate, masters and PhD Students and work with them on their experiements that they are working on.

On some other days I go into schools and do some workshops. Then there are days where I do other administrative things…I also cordinate the Pint of Science which is a Public Engagement Event in Bournemouth and plan organising that for May each year. I have also spoke for soapbox science!

What I'd do with the prize money: Use it to do more awareness workshops (BRANES) in the community.

Read more

In 2016 we got funded by the British Psychological Society's Public Engagement fund to pilot programs (for 1 year) in local community ( in schools and community) to increase the awareness of the changes that people have when they are diagnosed with any kind of neurological disorders (e.g. stroke, dementia, brain injury etc.). This was called BRANES (i.e. Building Resilience and Awareness through Neuropsychology Education in the Society (https://www.bps.org.uk/news-and-policy/branes-increasing-brain-awareness-bournemouth-kenya).

Currently, a researcher who volunteered on this project is planning to run the BRANES program for schools in the United States of America.

If we get the prize money, we will use it 1) some money to raise more awareness in the society by having a stand in Bournemouth Square during the brain awareness week (March 2019); 2) Will use some of the prize money to support a conference for local GPs and researcher to translate what we have done into more relevant application; 3) Finally, some money will be used to be able to organize a few more public engagement events in local communities and/or schools to increase more awareness as part of the BRANES project.

My Interview

How would you describe yourself in 3 words?

Passionate, enthusiastic and curious!

What or who inspired you to follow your career?

A number of people, but my mentor Professor Anthony Wagner who gave me the opportunity to learn.

What was your favourite subject at school?

Science (Biology and chemistry was my favorite), Physics was interesting, maths was a bit scary!

What did you want to be after you left school?

Neurosurgeon or a Neuropsychologist!

Were you ever in trouble at school?

I was very mischievious and have been told off, but nothing serious.

If you weren't doing this job, what would you choose instead?

Work with patients and travel!

Who is your favourite singer or band?

Have a number of favourites and they change. Currently, it's Penn Masala (an American a cappella group)

What's your favourite food?

Lentils and rice and well made chicken tikka!

What is the most fun thing you've done?

Skydiving! It was wonderful!

If you had 3 wishes for yourself what would they be? - be honest!

1) Lots of money to do good research; 2) have 50 hours a day so I could only work 3 days a week and 3) Travell around the world sharing my passion for dance and research!

Tell us a joke.

Not very good at them! But I can really laugh if you say a joke!
---
---